There's no better place to celebrate the Year of the Trail than our little corner of the world. Here in Transylvania County, you can choose to hit the trail in a national forest (Pisgah), a state park (Gorges), two state forests (DuPont and Headwaters) or a charming small town (Brevard). All told, there are more than over a hundred thousand acres of lush woodlands here. An afternoon hike in our part of the world will either soothe your soul or stretch your spirit depending on your path.  Below you'll find five not-to-be-missed hikes.
Here's your chance to marvel at the capabilities of the irrepressible "castor canadensis" (more commonly known as the North American beaver) to transform a landscape. This mostly flat 5 mile trail works around bogs and ponds created by these industrious engineers.  This high-elevation valley is ideal for a casual ramble. You'll see lots of native wildflowers and ferns along the way. Be sure to visit the Forest Discovery Center at the nearby Cradle of Forestry, too.  Reach the trailhead by entering Pisgah National Forest on US276 and drive north 11.4 miles. Parking is on the right.
Level: Easy
Distance: 5 miles
Trail: Pink Beds Loop
Starting Point: Picnic area of Pink Beds
Directions: From intersection of US-276/US-64/NC-280, enter Pisgah National Forest. Go 11.4 miles on US-276 North. Turn right into Pink Beds Picnic Area.
John Rock is a local favorite, and with good reason. This well-marked loop summits along the smooth granite face of John Rock and affords breathtaking views of Looking Glass Rock and the distant ridgeline of the Pisgah Range to the northwest. The trail offers a nice combination of flat walking and rigorous climbs. Bring a picnic lunch in your daypack. Exercise additional caution at the summit especially in wet weather. This is a strenuous hike of 5 miles, and starts at the Pisgah Center for Wildlife Education in Pisgah Forest.
Level: Strenuous
Distance: 5 miles
Trails: Cat Gap Loop, Cat Gap Bypass, John Rock
Starting Point: Pisgah Center for Wildlife Education, Pisgah Forest
Directions to trailhead: From intersection of US-276/US-64/NC-280, enter Pisgah National Forest. Go 5.3 miles on US-276. Turn left onto FR-475 and go 1.4 miles. Turn left into parking lot for the Pisgah Center for Wildlife Education.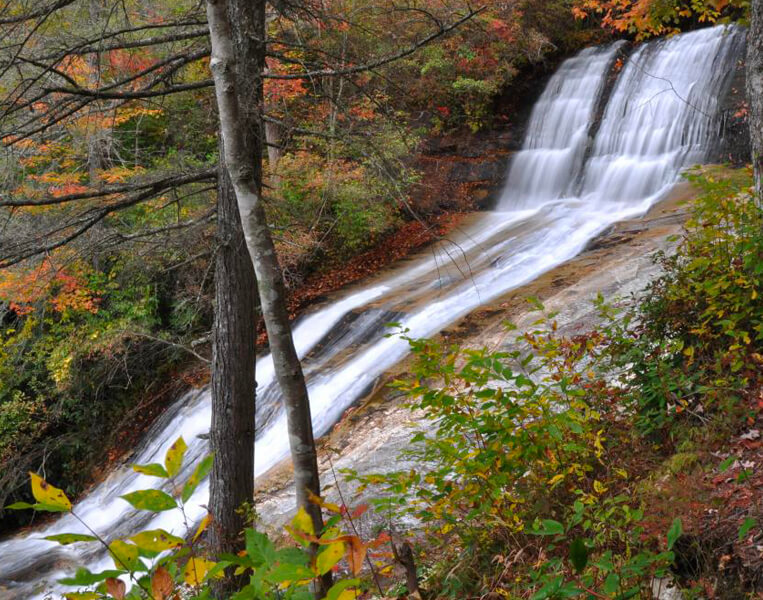 Upper Bearwallow Falls Trail
There are lots of popular hikes in Gorges, considered to be the crown jewel of North Carolina's state parks. But we have a fondness for this moderate, one-mile hike on a well-maintained trail that weaves through a beautiful woodland setting. The payoff comes when you reach a roomy viewing platform that frames a long-range look at Upper Bearwallow Falls.  While you're visiting Gorges State Park be sure to stop at the Visitor Center, where you can also learn the fascinating history and geology of this timeless setting. 
Level: Strenuous
Distance: 1 mile
Trails: Upper Bearwallow Falls Trail
Starting Point: Bearwallow & White Pines Picnic Areas
Directions to trailhead: Park at the Grassy Ridge Access entrance off of Hwy 281 South, in Sapphire. Follow the blue triangle blazed trail.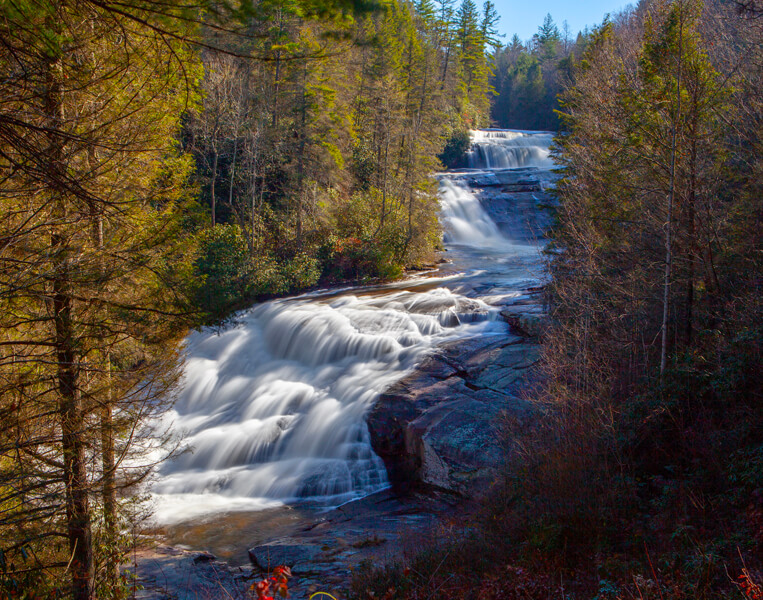 Dupont State Recreational Forest
Waterfalls abound in DuPont, so it's only fitting that the payoff for this hike is not just one, but two of the forest's marquee cascades. Starting at the Hooker Falls Parking lot on Staton Road, cross the bridge over the Little River and begin a somewhat strenuous climb that's rewarded by multiple views of Triple Falls. Carry on uphill a short distance for a breathtaking look at powerful High Falls. While mostly uphill, this is a short hike – and once you've viewed these scenic falls you have an easy downhill stroll back to your vehicle. 
Level: Strenuous
Distance: 2 miles
Trails: Triple Falls Trail, High Falls Trail
Starting Point: Hooker Falls Parking Lot
Directions to trailhead: Park in the Hooker Falls parking lot off Station Rd. in Dupont State Recreational forest.  Cross the bridge over the Little River and continue up the trail.
Downtown Brevard Sculpture Walk
Throughout Downtown Brevard
If you want to know where the wild things are, you don't always have to venture into the woods. This easy urban walk features wild turkey, fox, panther, black bear, chipmunks and even white squirrels. Twenty-one different sculptures, rendered in steel, bronze, copper, marble and stone make up this delightful downtown stroll. It's a great way to familiarize yourself with the native species that populate our forests before you actually head into the woods. The Transylvania Times offers a scavenger hunt here, to make finding the sculptures even more fun. And stay tuned for news about the three new sculptures of larger-than-life musical instruments being installed near Brevard College.
Level: Easy
Distance: 1-3 miles (depending on your route)
Trail: No set route.
Starting Point: Visitor Center, 175 E. Main Street, Downtown Brevard